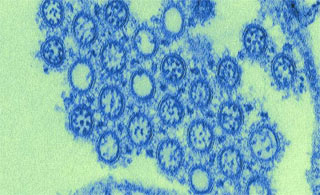 Since mid-April 2009, cases of human infection with a new influenza A/H1N1 virus (also known as "swine flu virus") have been reported in several countries. Preliminary laboratory tests show that the epidemic was caused by a new subtype of the influenza A/H1N1 virus, not previously detected in pigs or humans.
On 25 April 2009, under the International Health Regulations, the Director-General of the World Health Organization (WHO), Margaret Chan, declared the ongoing situation a "public health emergency of international concern".
On 10 August 2010, the WHO Director-General declared the end of phase 6 of the influenza A/H1N1v (2009) pandemic alert and the start of the post-pandemic period.
The National Centre for Epidemiology, Surveillance and Health Promotion (Centro Nazionale di Epidemiologia, Sorveglianza e Promozione della Salute - CNESPS) of the Istituto Superiore di Sanità (ISS) provides healthcare workers with constant updates on the development of the situation. Visit the dedicated page (in Italian).