Maternal mortality surveillance
The surveillance system of maternal mortality, coordinated by the ISS, collects comprehensive and reliable data on maternal mortality in 15 Italian regions (Valle D'Aosta, Piedmont, Lombardy, Veneto, Friuli Venezia Giulia, Emilia-Romagna, Marche, Umbria, Tuscany, Lazio, Campania, Apulia, Calabria, Sicily, Sardinia, the Autonomous Province of Trento and the Autonomous Province of Bolzano), accounting for 94,7% of total births in Italy.
The objectives of the surveillance are to: provide reliable estimates of maternal mortality, identify the main determinants of maternal death, and promote public health interventions aimed at improving the quality of maternity care and preventing avoidable deaths.
Maternal mortality: why a surveillance system?
The death of a woman during pregnancy, childbirth or the puerperium is always a tragedy, for the woman herself, but also for her family and the whole community. Less than 1% of global maternal deaths occur in the most developed countries, yet it is estimated that about 50% of those deaths could be avoided [1, 2]. The 2016-2030 Sustainable Development Goals are a call for action also by European countries to end preventable maternal and child deaths: the first step will be improving data monitoring and reporting to ensure that no maternal, foetal or neonatal deaths will go unnoticed [3].
Research carried out in several European countries has shown that cause of death certificates do not allow a reliable estimate of deaths related to pregnancy and childbirth [4, 6]. A retrospective record-linkage study conducted in 2008-2010 by the ISS across five Italian regions found, for the first time in Italy, that the maternal mortality ratio (number of maternal deaths per 100,000 live births - MMR) calculated using only cause of death certificates was understated by 60% compared to the one obtained through linkage of those certificates to hospital discharge records (Schede di Dimissione Ospedaliera - SDO) [7]. Results also showed that the retrospective approach did not provide detailed information on either the cause of death or possible clinical, care and organizational problems associated with the identified maternal deaths. In its 2004 report entitled "Beyond the Numbers", the World Health Organization (WHO) highlighted the need for each country not only to provide reliable estimates of maternal mortality, but also to implement a case monitoring and auditing system that could produce useful information to understand why women die during pregnancy, childbirth or the puerperium and what can be done to prevent such deaths [8].
Between 2012 and 2015, the ISS successfully completed a pilot surveillance project of maternal mortality aimed at developing a methodology to obtain accurate estimates of the maternal mortality ratio and collecting useful information to prevent avoidable maternal deaths. In 2015-2016, the surveillance was extended to include 8 regions, and in 2017 reached the current coverage.
Methodology
The methodology of the surveillance system is modelled on that of the UK Confidential Enquiry into Maternal Deaths, first established in 1954 and regarded as the gold standard internationally: the surveillance allows identification, notification and collection of comprehensive and reliable data on all maternal deaths; confidential enquiries use qualitative methods to evaluate the quality of care provided and identify areas for improvement.
The ISS-Regions surveillance combines two approaches to record maternal deaths:
Retrospective: through linkage of cause of death certificates to hospital discharge records
Prospective: through reporting of incident cases by healthcare facilities (active surveillance).
The retrospective approach, which involves linkage of several data sources already available at regional level, provides reliable estimates of the maternal mortality ratio in our country allowing regional comparisons and, thanks to the wide coverage achieved by the system, also international comparisons [9].
The prospective approach, based on the active surveillance of incident cases of maternal death [10], involves:
Engagement, in the participating regions, with all public and private healthcare facilities where a maternal death can occur (facilities with maternity, intensive care and/or stroke units and/or coronary care units)
The presence, at each healthcare facility, of a surveillance coordinator (facility coordinator) in charge of coordinating a multi-professional clinical audit to ensure a detailed assessment of any maternal death. During the audit, which involves all healthcare workers who provided care for the deceased woman, the cause of death is established and comprehensive data on the case in question are collected anonymously
Setting up a regional multi-professional committee of experts that, after receiving the audit data and anonymized clinical documentation from the facility coordinators, conducts confidential enquiries to confirm the cause of death, evaluate appropriateness of care and identify preventable deaths
A central review of the cases
A critical analysis of the information gathered annually to develop recommendations for clinical practice and interventions aimed at preventing avoidable deaths
An annual dissemination of information at the national and regional levels
An impact assessment of the actions taken
A strategic component of the active surveillance is the internal auditing performed at the facilities where deaths occur. An audit involves: identifying useful or harmful actions that have proved relevant to the outcome of a case; promoting a culture of transparency as the basis for improvement rather than blame; setting up a multi-professional peer group; helping professionals manage stressful events; supporting professional development based on the identification of group and individual needs for further education and training.
Although onerous, active surveillance is the only approach that allows gathering the information needed to go beyond a mere estimate of maternal deaths.
Figure 1: The maternal mortality active surveillance cycle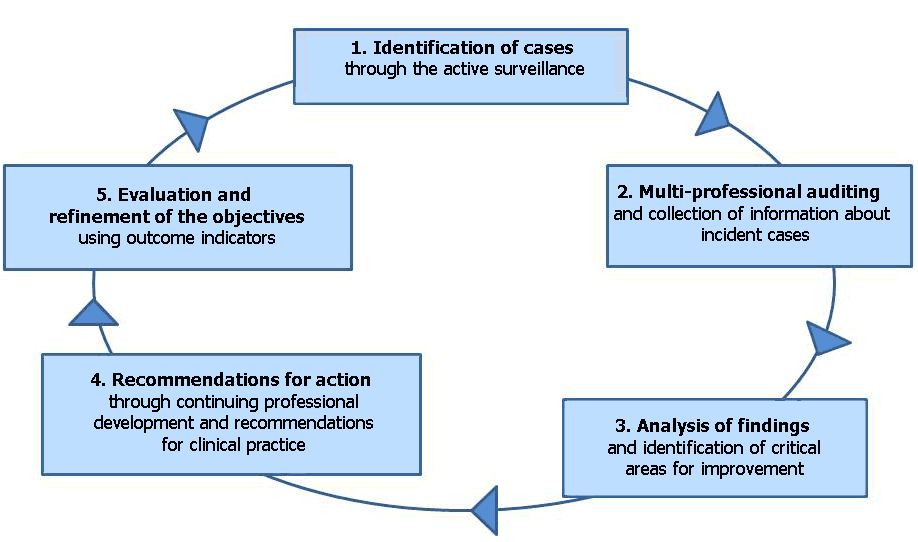 Activities
The ISS-Regions surveillance system:

Estimates the maternal mortality ratio (MMR)
The surveillance system found that the 2006-2012 ratio calculated using cause of death certificates was understated by 60.8%. Across 8 regions accounting for 73% of total births, the MMR was indeed 8.9/100,000 live births, and showed significant interregional variability (Figure 2).
The ISS is tasked by the WHO with reviewing maternal mortality estimates in Italy.
The ISS coordinates and takes part in a technical panel, with the Ministry of Health and Italy's National Institute of Statistics (ISTAT), to produce the first national MMR estimate through linkage of cause of death certificates to hospital discharge records.
Figure 2: Maternal mortality ratio calculated using Istat cause of death certificates vs ratio obtained through record-linkage, 2006-2012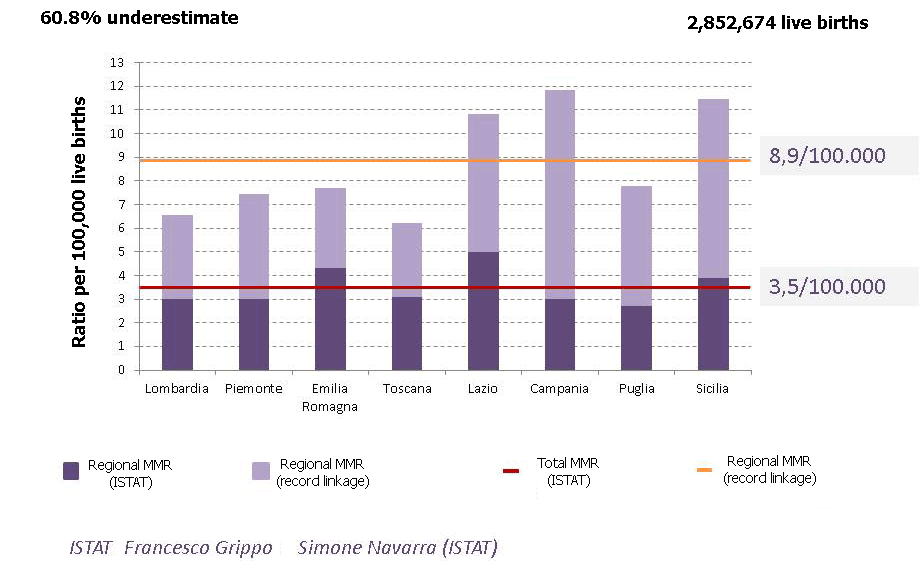 Identifies the leading causes of maternal mortality

Record linkage identified 134 maternal deaths due to obstetric complications between 2006 and 2012
Obstetric haemorrhage was the most frequent cause of death, followed by hypertensive disorders of pregnancy and thromboembolism
Between 2012 and 2015, the active surveillance collected detailed information on 63 maternal deaths. Five of these 63 women died of influenza as none of them were vaccinated against it

Identifies the main clinical, care and organizational issues that require improvement

Six out of 11 cases of maternal death due to obstetric haemorrhage identified by the active surveillance in 2012-2015 were classified as preventable and receiving inappropriate care

Develops recommendations for clinical practice

In 2016, the surveillance system promoted and coordinated the drawing up of a guideline on the prevention and treatment of postpartum haemorrhage (the most common type of obstetric haemorrhage) in accordance with the National Guidelines System (Sistema Nazionale Linee Guida - SNLG), and of a non-technical version aimed at women and the general population

Offers continuing training for health professionals on the leading causes of maternal mortality

During 21 months, between 2015 and 2016, two e-learning courses on postpartum haemorrhage were run and attended by 10,589 doctors and obstetricians, 85% of whom earned CME (continuing medical education) credits
During 9 months in 2016, an e-learning course on hypertensive disorders of pregnancy (the second most common cause of death, based on record linkage) was run and attended by 4132 doctors and obstetricians, 87% of whom earned CME credits

Carries out research projects and interventions focusing on both the leading causes of severe maternal morbidity and mortality and the identified problems
Contributes to the International Network of Obstetric Survey Systems, which allows data comparisons between countries and conducts studies of rare conditions causing severe morbidity and mortality
Assesses the impact of the actions taken and refines the objectives

Data on maternal deaths due to obstetric haemorrhage, which are the focus of several actions taken as part of the surveillance system, suggest improved management of this condition: they dropped from 43% in 2006-2012 (based on record linkage) to 28% in 2013-2015 (based on the active surveillance).
References
Euro-Peristat. "The European Perinatal Health Report 2010. Health and care of pregnant women and babies in 2010"
Agrawal P. Maternal mortality and morbidity in the United States of America. Bull World Health Organ 2015; 93(3):135.
United Nations Secretary-General. Global Strategy for Women's, Children's and Adolescents' Health (2016–2030). New York: Every Woman Every Child; 2015.
Lewis G (Ed.). Saving mothers' lives. Reviewing maternal death to make motherhood safer-2006-2008. The 8th report of the Confidential enquiries into maternal deaths in the United Kingdom. London, Confidential enquiries into maternal and Child Health (CEMACH), 2011.
Deneux-Tharaux C, Berg C, et al. Underreporting of pregnancy-related mortality in the United States and Europe. Obstet Gynecol 2005;106:684-92.
Fässler M, Zimmermann R, QuackLötscher KC. Maternal mortality in Switzerland 1995-2004. Swiss Med Wkly 2010;140:25–30.
Donati S, Senatore S, Ronconi A, Regional maternal mortality working group. Maternal mortality in Italy: a record-linkage study. Brit J Obstet Gynecol 2011;118:872-9.
World Health Organization. Beyond the numbers: reviewing maternal deaths and complications to make pregnancy safer. Geneva, 2004.
Donati S, Maraschini A, Lega I, D'Aloja P, Buoncristiano M, Manno V; Regional Maternal Mortality Working Group. Maternal mortality in Italy: results and perspectives of record-linkage analysis. Acta Obstet Gynecol Scand. 2018 Jun 28. doi: 10.1111/aogs.13415
Donati S, Maraschini A, Dell' Oro S, Lega I, D'Aloja P; Regional Maternal Mortality Working Group. The way to move beyond the numbers: the lesson learnt from the Italian Obstetric Surveillance System. Ann Ist Super Sanita. 2019;55(4):363-370. doi:10.4415/ANN_19_04_10
Useful resources
Download the "First ItOSS report. Maternal mortality surveillance" (pdf 2.8 Mb, in Italian) and the corrigenda (pdf 149 kb, in Italian), which update the list of experts of the Committee for Confidential Enquiries of region Tuscany, and the list of coordinators of birth facilities and the clinical risk network of region Tuscany. Read also the comment (in Italian) by the ItOSS working group.