The Information system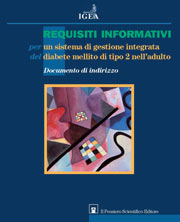 A program of management for a chronic disease such as diabetes cannot properly function without an information system, which allows patient information to be organized, patient care to be planned and tracked, support for self-management to be provided, and follow-up to be scheduled.
In this document, the issues related to the information systems necessary for sustaining the program of management of the IGEA project are described. Although the decisions and experiences in the diverse clinical and geographical settings need to be respected and valued, it is necessary to guarantee coherence among the diverse information systems, to be agreed upon in suitable settings in the national context.
The specific objectives of the document are:
to define the general indications for developing information systems that support the disease management of diabetes
to identify and define indicators that are suitable for measuring the degree of realisation of the program and its effectiveness
to define a data dictionary that represents the overall semantics of the system.
Download the document (pdf 1,26 Mb, in italian).