THE NATIONAL GUIDANCE ON THE MANAGEMENT OF TYPE 2 DIABETES MELLITUS - 2012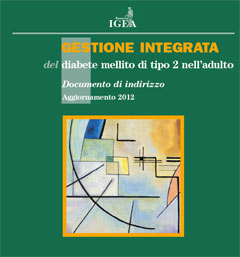 The document, updates the 2008 version. Minimum clinical and organisational requirements for an integrated management of type 2 diabetes mellitus, including a system of indicators, were provided. Recommendations were formulated, by a multidisciplinary work group, according to GRADE method, which implies an evaluation of the quality of evidence and of the patients' values and expectations, a benefit/risk ratio judgement and an assessment of the practical feasibility of what is being recommended. The multidisciplinary work group included all the key stakeholders involved in the management of diabetes: diabetologists, internal medicine specialists, general practitioners, representatives of patients, policy makers, epidemiologists, diabetes nurses, dieticians, and methodologists. A systematic review of the biomedical literature was then performed to identify high quality scientific evidence to be appraised and discussed by the panel. The recommendations provided by the document are aimed at improving the quality of care for persons with diabetes through an integrated and shared approach among all stakeholders involved. The target audience are policy makers, practitioners, patients and all the healthcare workers involved in the care of diabetes.
Download the document.